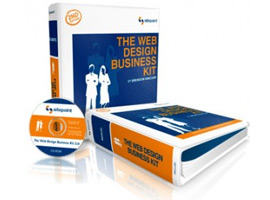 Brendon's book – The Web Design Business Kit – sold for $247, had 3rd Editions and has changed the lives of web developers around the world.
Widely considered to be the"Bible" for web developers building a business, the book was awarded Best Book in the Internet Industry when first published and has been a best selling success.

"Absolutely fantastic. Without a doubt one of the greatest and most informative reads around."
"I don't even know how to put my appreciation into words. This product is nothing short of outstanding."
"….one of the most exciting and motivational products I have ever read…."
"….probably the most important thing on our business that we have read. I only wish I'd read it years ago."
"I would have paid $1,000 for this! All in all ….Mr Sinclair, you are my Hero!" – Ian, Berlin

"Can write and tell a story! Fabulous help….." Chloe
It has been the best-ever selling product on Sitepoint – a place for cutting-edge content for web professionals.
Business Is About Remarkable
Brendon passionately believes that standing out in today's business world is a must and his key message is that businesses should forget about making sales and focus more on providing remarkable service and solutions for the customer.
Brendon says he's really proud of the book and the success it's had to now – "It's wonderful to have helped so many people start out or continue on their journey and make things a little easier for them," he said.
Call NOW on 07 5534 1228 Or Use The Form Below